With the  whitetail rut happening all over the United states I thought I would do some research and see what the rutting activity was like in some other great states. There is not a more exciting time to be deer hunting than when the whitetail rut.  They say everything is bigger in Texas, and I have always heard about big deer Texas. I have enjoyed watching the different hunting shows through the years, and I have seen some great ones filmed in Texas. One day I hope to be able to go to Texas. The Lone Star State is definitely known for trophy whitetails.
Whitetail Rut
There are two different rutting periods in the Lone Star State: December in the southern part and November in the northern half of the state. The north Texas rutting moon would be Nov. 13. this year and December 12 in South Texas.
Down in South Texas, the big bucks necks are starting to swell  as the big boys rut in big deer Texas.  Expect the rut in  the Brush Country of the famous South Texas  to start the last few days of November, but it will probably peak about mid-December as it has done for many years,  and some rutting activity will probably continue until the first week of January. Man I would like to be there when the monsters are chasing does. I bet the brush country is an exciting place to be when the big boys go bonkers! I'm getting pumped just thinking about it.
The other night my son wanted me to make something out of play dough so I did. The picture below is what we came up with. I ran out of brown so I drew the rest with crayons. I guess I could change careers and become an artist. Keep my day job right. My sons and wife liked it.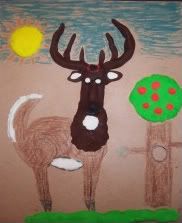 I hope everyone has a safe and happy Thanksgiving!
To contact Deerhuntingbigbucks.com with questions or comments fill out our DHBB contact form.