I received an email from a digital marketing consultant working with the History Channel about doing a post. Including the link, pictures and videos about their upcoming new show "Top Shot" and I gladly accepted the invitation.
Top Shot
"Top Shot" is sixteen of some of the most skilled marksmen in the nation carefully chosen to compete for the title "Top Shot"  and a $100,000 prize package. The winner will have to be skilled in everything, from muzzle-loading, muskets, pistols, to throwing knives and sling shots.
Each week, the marksmen will face both individual and team elimination challenges until one winner remains. Every challenge will focus on the weapons, techniques and technologies of different historical eras. The skillful execution of each test is captured in extreme slow-motion by hi-speed HD cameras.
"Top Shot" premieres on Sunday, June 6th at 10pm EST ( .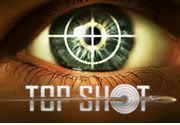 Also I wanted to tell you about a very cool sweepstakes that they asked me to let you know about as well.
xbox.com/topshotsweeps – This is a sweepstakes where you and a friend could travel to Los Angeles for a special Microsoft game-related event.
xbox.com/topshotPW – This is a contest in which you would play Call of Duty – Modern Warfare 2 online between the times of 12:01 A.M. Pacific Time on June 4 and 11:59 P.M. PT on June 5, 2010. The best online players will be eligible to win prizes such as a HD TV, home theater system and an Xbox Elite.
This is a really cool show. I know you will all love it. It is a very challenging, and is fun and has some great prizes. Be sure to check it out. I'm sure you will like it.
Is everyone ready to get after some bucks? To contact Deerhuntingbigbucks.com with questions or comments just take a minute and fill out our DHBB contact form.