I recently filmed a deer hunting legend of a buck for us at DHBB. It was a great experience and one I'll never forget. I harvested a big deer an 11 pointer back in October with my bow. Then I got to film my good friend and fellow DHBB Pro-staff member Troy for a week of getting after whitetails here in Kansas. I have seen a lot of whitetails and some really nice bucks. As a matter of fact I saw the biggest buck I have ever seen in my life while in the woods. He was a real deer hunting legend in our minds that we were hoping to get a shot at.
Deer Hunting Legend
Troy arrived in Kansas on November the 8th and a cold front was moving in the day he arrived. With the recent activity you could just tell this cold front was going to have the big boys up and on their feet during daylight hours. I had been seeing a really nice buck that we appropriately named "Horn Donkey". He started showing up in late October on my trail camera pictures. To my surprise he was living right behind my house.
Then showing up only at night on October 26th and the a few days before Troy arrived he started getting bolder. But then he showed up right at daylight and right at dark. But then the day before Troy was to arrive he showed up on our trail camera pictures later in the morning hours. And earlier in the afternoon he showed up and was there all hours of the day.
Our Excitement Grows
Troy and I knew if we played it smart we just might get a shot at this once in a lifetime buck. Just the possibility of getting a Boone and Crockett buck with a bow on film had Troy and me so excited we couldn't think straight.
Airport Arrival
I picked Troy up at the airport and it was raining and cold no need for sunglasses for sure on this day. We made a quick visit to Cabellas and then arrived at my house around lunch time. Troy got unpacked and we had some venison stew for lunch and then Troy shot his bow. We decided to hunt a different location than where we were getting the trail camera pictures of "Horn Donkey" because the wind was unfavorable.
The first sit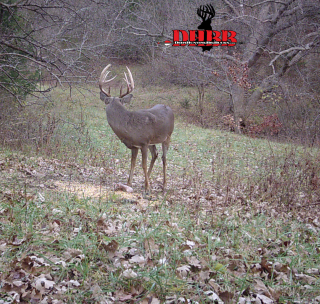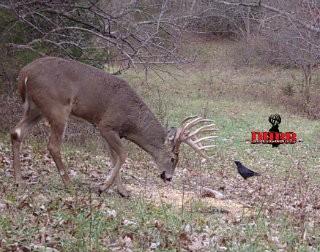 The first evening hunt was uneventful and cold and wet. But the next morning the conditions were perfect for deer hunting and we had an awesome hunt. We got settled in the 2 loc-ons well before daylight and the excitement was in the air. The rut was on and we had a Booner on trail camera right where our stands were. The wind was out of the northwest and perfect. We saw four bucks and two coyotes that morning and 2 of the bucks were nice but they weren't what we were after. Although we were after "Horn Donkey".
We hunted until about 11am and then slipped out and had some lunch and got back in the stand around 2:00pm.
Windy Day
The wind was blowing pretty hard in our face. As we made our way to the stand and we walked up on about 25 turkeys as we got to the stand. We got up in the stand and got situated and I decided to do a little calling.
There's Our Boy Horn Donkey
A few minutes after I did the calling I looked up and there is the biggest buck I have ever seen in my life standing about 35 yards away and it I can tell immediately it is "Horn Donkey" the deer hunting legend and he looks much bigger in the flesh than he does in photos! His mass was much bigger than I ever imagined.
I lean over and Tell Troy to get his bow and to be still that our boy was here. He said I had a fire in my eyes and he could tell I was serious.  Then I turn and get my Canon XHA1s turned on and get on him. The buck slowly walks out from behind some brush from the opposite direction of where we were expecting him to come from. A world class buck is now standing 30-35 yards away and in my viewfinder and my heart is pounding like never before. I can feel my legs start to tremble. But I was not going to make a wrong move.
Just Breathe
He walks a few yards but since he came from the opposite direction of where we were expecting my Motion Camera arm is now in a little bit of an awkward position and as I try to slowly follow him it makes a slight noise and the big brute which is now about 23 yards stops and stares me down for what seemed like forever. I've got the camera in between my face and him and my heart is thumping. Finally he flips his tale and licks his lips and starts slowly walking. This whole time I thinking shoot him Troy, not able to see what he's doing or when he might be able to draw. I don't even want to breathe because I'm afraid he might see me.
Intense Few Minutes
We film this world class buck at 23 yards for almost 6 minutes and it is by far the most intense 6 minutes of my entire life. The whole time the monster whitetail knows something is not quite right but he just can't figure it out. The wind was in our favor and he is rutted up and hungry.
The shot
Finally the buck let's Troy get drawn back and turns broadside at about 28-30 yards and I hear the release and a whack and the buck does an unbelievable back leg kick and falls as he lands and scoots into the brush and I swing the camera to follow him and you can hear him crashing through the brush and then silence. I swing the camera to Troy and say "did you get him?" There was a limb between the camera and the spot of impact.
Not What We Wanted
After reviewing the footage we figured Troy's arrow just nicked a small limb causing it to deflect right and hit the buck back. We've reviewed the footage hundreds of times and because of the limb you just can't tell the point of impact. And we believe it was a gut shot just in front of the ham about midway up the ham quartering to and into the right ham hitting the leg bone in the ham.
Although we believe he is fatally shot it is just a matter of how far he ran and where he died. We only found a small speck of blood on a sapling and that was it.  We sat in the tree for about 40 minutes and then we backed out. Then went back to the house to review the footage. Waited a while and then decided to go to the spot he was standing a look for blood. We couldn't find anything no blood no guts no nothing. That's when we backed out for the night and waited over 24 hours until we went in looking for him.
The Search Begins
We got permission from the neighbors. We searched every creek, ditch, thicket for about 5 days straight going over the same spots 4 and 5 times. Troy was devastated and we couldn't sleep at night. I went to most of the neighbors and introduced myself and asked the to be on the lookout for buzzards, crows, smell any clue. They all said they would let me know if they see anything.
I still look daily for any sign. It is heartbreaking to get so close to getting a world class whitetail on camera. But if you hunt you know these things can happen and do happen sometimes. I consider myself blessed to be able to encounter such a beautiful animal out in the great outdoors. I won't give up looking for him.
What will he score
We believe he will score in the 180's. But if we are guessing wrong just a little on our circumference measurements he could possibly challenge the Kansas state record typical with a bow on film. It is an experience that I will never forget and I'm sure Troy wont either.
Great Footage
We documented the entire series of events of the whole week. From me picking Troy up at the airport. To the hunt to us searching for the buck on film all in high definition. It is some awesome footage and now we are in the process of editing the hunt footage. Then deciding what to do with it. Hopefully we will be able to share it with you soon. Update: Here is the video we filmed of the legendary Horn Donkey.
I hope everyone is having a great season so far. Good luck everyone.