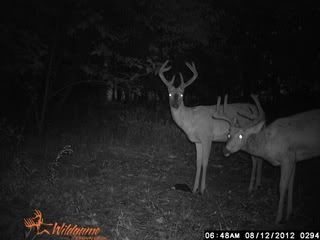 Bow Season
After a long hot summer bow season is almost upon us  here in Kansas. This morning bow season starts in Georgia and a lot of my friends are headed to the woods to get after those big bucks. I can't wait to see some of the pictures of the big boys taken on opening day. I have already seen several huge bucks taken in Kentucky this bow season. Fall is by far my favorite time of the year. With college football, deer hunting and cooler weather it just doesn't get any better than that.
Drought Conditions Tough On Deer
It has been so dry here in the mid-west this summer even though the last couple of weeks we have gotten some much needed rain. For a while the deer seemed to be concentrated near water. Which one of the places I have permission to hunt didn't have water on it and the deer were pretty much staying near a pond a quarter mile away. With the recent rain and the creeks having water in them now I have been seeing more deer.
Bucks On Trail Camera
I have been getting some nice bucks on trail camera, one buck in particular we named "Tall Tine 8" he is the biggest buck I have on camera this year so far and he is the first one to be out of velvet. All the other bucks I've seen are still in velvet. Most of the pictures I am getting of bucks they are all still in bachelor groups. I bet they will be going their own separate ways a little more in the next few weeks. I haven't seen any light sparring but expect to see some in the next few weeks.
Bow Season Hunter Safety Is Top Priority
It is an exciting time of the year and I want to wish all of you the best of luck. But before I go I wanted to remind everyone to be safe out there. It only takes a split second for an accident to happen. Always wear those safety harnesses and always identify your target before shooting. Don't ever shoot into the brush at an unidentified target if you can't see what it is don't shoot. I recently bought a few of the Hunter Safety system Life lines and I love them. They are simple to use and keep me connected to the tree from the time I leave the ground until I touch ground. I had my doubts but I really, really like this product it makes you feel safe the whole time you are in the tree.